Update 13/03/2019: Official Android Q Beta is now available for all the Google Pixel devices. We have shared a guide, if you have a Pixel phone, then you can follow our tutorial here: Download Android Q Beta for Google Pixel Devices Right Now [All Models]
---
While most of us still waiting for Android 9 Pie update to our Android smartphones, the Android Q (Android 10) version development is in the process. Google has officially announced Android Pie release a few months ago on Aug 6, 2018. Though most of the companies are developing and trying to roll-out the update to their eligible devices. A very few chances to get the update on some mid-range devices early this year. Here is the expected list of devices to get Android Q.
So many latest and a few flagship devices are also running on Android Oreo yet. The Android 9 Pie brings so many system improvements and new features. Such as Digital Wellbeing, Swipe Gesture Navigation system, App Timer, App Slices, Recent UI, Notification Bar etc. But the smartphone OEMs aren't that much of capacity to provide updates faster.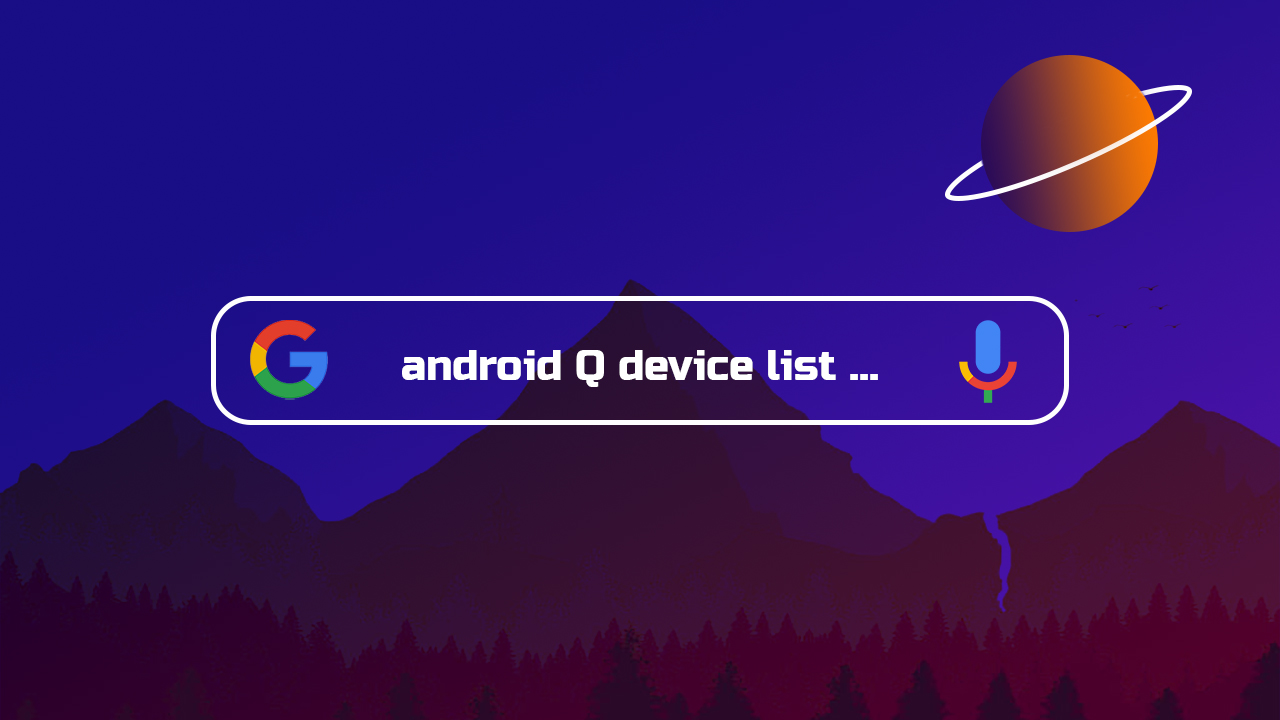 Android Q: Expected Name
As we all know that every year Google launch their new Android version in Google I/O event. The Android version names are released in alphabetical order. The latest version named Android P and the 'P' stand for Pie. Now it's time for Android Q. There are so many names which could be a part of Android Q version. Such as Quesadilla, Quiche, Quail, Quinoa, Qurabiya, Quesito, Quenelle, Quaker Oats, Quinoa Pudding. But we don't know exactly what will Google pick.
Read More: How to Root Android using SuperSU ZIP and Custom Recovery
Android Q: Expected Release Time
From the leaked reports, the Android Q expected announcement date in 2019 will be around May-August month. However, Google every year releases the Developers Preview build as a beta version. So, it's expected to release a Developers Preview (DP) between March-May month. There is nothing official yet. But based on the previous releases, we can expect the mentioned time-frame.

Developers Preview between March-May in 2019.
First Public Beta release within May 2019.
Official Stable OTA may start from August 2019.
Android Q: Expected Features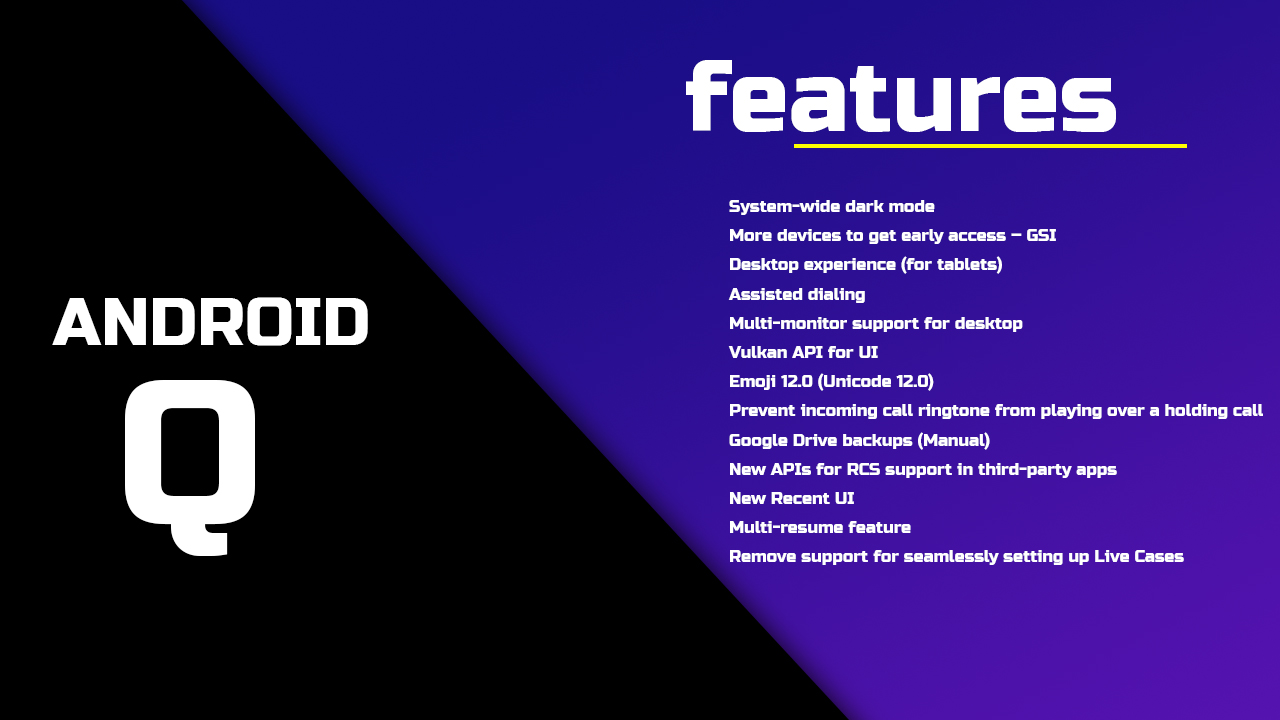 The following features we can expect from the upcoming Android Q version:
System-wide dark mode
More devices to get early access – GSI
Desktop experience (for tablets)
Assisted dialing
Multi-monitor support for desktop
Vulkan API for UI
Emoji 12.0 (Unicode 12.0)
Prevent incoming call ringtone from playing over a holding call
Google Drive backups (Manual)
New APIs for RCS support in third-party apps
New Recent UI
Multi-resume feature
Remove support for seamlessly setting up Live Cases
And more…
Please Note: All of the mentioned expected device lists, expected features, and the expected release date is based on leaks and rumors. There isn't anything official yet by Google.
Expected List of Devices to Get Android Q
1. Google
The Google Pixel devices are the first and will be the first devices to get the latest Android Q 10.0 update officially. There is no doubt about it. However, we don't know whether the first generation Google Pixel and Pixel XL will get the update or not. But the Pixel 2, Pixel 2 XL, Pixel 3, Pixel 3 XL will definitely get the first update.
2. Essential PH
This one is the second device brand which provides faster and frequent major Android updates along with security patches as well. In addition, the Essential PH already got the Pie update on the same day when Google Pixel got the update. So, we can expect that the Essential will provide the upcoming Android Q stable update to their devices a well.
The Essential PH-2 is in the works and could release this year may be with Android Q out-of-the-box. If the device launch with Android 9 then it will surely get the faster update of Android 10.
3. OnePlus
The Chinese smartphone manufacturer has already become a popular brand. With the flagship-killer devices and competitive price tag, OnePlus getting a huge response. The OnePlus devices are really focused on performance and camera. The OxygenOS also a great addition to make the system smoother.
Most of the OnePlus devices already get Android 9 Pie update and OnePlus 6T already bundled with Android Pie. So, the OnePlus 5/5T, OnePlus 6/6T devices expected to get Android Q. While the upcoming OnePlus 7 will come preloaded with Android 10.
4. Nokia
Nokia has already changed their game in the Android smartphone market. Thanks to the HMD Global to launch all the Nokia devices with Android One platform. So, the Nokia devices getting much faster and regular updates of Android version and security patches. That's quite good in terms of other non-pixel or non-Android One devices. Even, the HMD Global introduces public beta build to gain users attraction.
Nokia 7 Plus, Nokia 7.1, Nokia 7.1 Plus, Nokia 8.1, Nokia 8.1 Plus, Nokia 5.1 Plus, Nokia 6.1 Plus, Nokia 8 Sirocco should get the Android Q update by the end of 2019 probably.
Read Also: Download and Install 15 seconds adb installer v1.4.3 on Windows (All Version)
5. Xiaomi
For the budget-segment and mid-range Android devices, Xiaomi is top-selling smartphone brand in India. However, Xiaomi is focused on MIUI custom skin updates but the major Android updates record isn't that good of Xiaomi. Though the company releases beta updates for their devices, it takes quite long.
The Xiaomi's Android One powered smartphones Mi A1 and Mi A2 gets Android 9 Pie update. So, it's expected to receive Android Q update to Mi A2 for sure and any upcoming Xiaomi Android One devices. On the other side, the Mi Mix 3, Mi Mix 2S, Mi Max 3, Mi 8, Mi 8 Lite, Mi 8 Pro, Mi 8 SE, Poco F1, Redmi Note 6 Pro, Redmi Note 7, and upcoming Poco F2 should get the Android Q official OTA.
6. Huawei
Another Chinese smartphone manufacturer Huawei is on the list of selling huge stocks all over the world. It's becoming the world's second largest smartphone manufacturer after Apple as well. The Huawei Mate 20 X, Mate 20, Mate 20 Pro, P20 series, Honor Magic 2, Honor View 20, Honor Play etc devices could get Android Q update in future.
7. Sony
Currently, Sony smartphones don't do that well in the market. The company launches some of the flagship-grade devices every year. Here is the expected device list of Sony which may get the Android 10 update. Such as Sony Xperia XZ2, Xperia XZ2 Premium, Xperia XZ2 Compact, Xperia XA2, Xperia XA2 Ultra/Premium etc.
8. Samsung
Samsung has recently announced the One UI custom skin for bigger display devices. However, the One UI is crafted for foldable or Android 9 Pie or higher version running devices. Samsung is now rolling out Android Pie update to most of the flagship devices with One UI.
The Samsung Galaxy S10 and Galaxy S10 Plus, Galaxy X should come with Android Q stable out-of-the-box. While, the Galaxy Note 9, Galaxy S9/S9 Plus devices are expected to receive the Android 10 OTA update by the end of this year. Though there isn't any chance for Galaxy S8 series and Galaxy Note 8 models to get the future update possibly.
9. LG
The Korean smartphone manufacturer LG is also not going good in terms of the Android smartphones in the market. However, LG launched last year a couple of flagship-grade devices with good specifications. Their update track record isn't that good at all. Still, the company has managed to deliver Android Oreo and Pie updates to some of the popular devices recently.
The LG G7 One is the Android One running device and already gets Android Pie update. Now, we can expect it to receive the upcoming Android Q OTA update as well in next year possibly. While the LG V35 ThinQ, LG Q Stylus, LG V30S ThinQ, LG G7 ThinQ, LG Q7, LG V30+ models are expected to receive Android 9.0 Pie update this year. So, maybe these devices could get the Android 10.0 Q update later this year or maybe not. That's a doubt for now. But the upcoming LG V40, LG V40+ or LG V40 ThinQ could get the Android 10 OTA.
10. HTC
HTC is way behind than the other smartphone brands in the market. Now, the brand is also losing the consumer faith and support as well, unfortunately. The HTC devices didn't do well in last year also. However, the company is hardly trying to get back the consumer response again on their recently launched devices. Another main reason to lose market is that the HTC devices not getting frequent Android or security patch updates. Meanwhile, the HTC handsets are also slightly difficult to root or manage any custom ROMs or tweaks.
Last year, the company has officially announced that Android Pie update is coming to HTC U12+, HTC U11+, HTC U11, and HTC U11 life (Android One) models. So, it's hard to assume that when the Android Q update will come to any HTC devices. But the future HTC phones could come with Android 10 version out-of-the-box or could get a faster update.
11. Vivo
Vivo devices are quite popular in India based on good design and camera specifications. However, the company doesn't provide any major Android updates to the devices. The custom skinned Funtouch OS is also slightly outdated or buggy in terms of other custom skins.
Almost the Vivo devices are running on Android Oreo version and don't get any Android update yet. The Vivo X21, Vivo X21 UD are the eligible devices to get Android 9 Pie update. While some other models like Vivo NEX A, Vivo NEX S, Vivo V9, Vivo V11 Pro are also in the list of getting Android Pie. But there is nothing confirmed which one will get Android Q OTA update in future from these models.
Currently, we can expect the Vivo X21 series, Vivo NEX series, Vivo V11 Pro could get the Android 10 Q update. The upcoming Vivo APEX 2019/Vivo NEX Dual Display devices will also eligible.
12. Oppo
Here is the same case with Oppo just like Vivo devices. While Oppo launched so many mid-range and flagship devices every year, they don't provide faster updates. Oppo devices and consumers are also focused on design and camera quality.
The Oppo Find X, Oppo R15, and Oppo R15 Pro models are expected to receive the Android Pie this year. While the Oppo R15 will get Pie first as this device was in the beta program. But there is no assurance to get Android Q even in next year. However, the new online segment of Oppo sub-brand Realme doing good. We can expect the Android Q update in upcoming Oppo and Realme devices.
13. Motorola
Lenovo-owned Motorola is again back with a bang. Motorola has always maintained their stock Android updates at least for two years. The company recently launched Motorola One Power device with Android Oreo last year. As the device is running on Android One platform, the Motorola One Power already gets Android Pie update. While the Motorola One and Moto X4 should get Pie update this year.
The future Motorola devices will get the Android Q update for sure. In addition, the Motorola One and Motorola One Power will get another update as well.
14. Lenovo
Lenovo is also very consistent in launching Android smartphones every year with decent specifications and price tag. So, if you're using any Lenovo device or want to buy, you should know whether your device is eligible for future updates or not.
Here is the list of Lenovo devices which are expected to get Android Q update in future. Such as Lenovo Z5, Lenovo Z5 Pro, Lenovo Z5 Pro GT, Lenovo K8 Note, Lenovo K8 Plus and higher.
15. Blackberry
Back in 2018, Blackberry launched their two Android phones such as Blackberry Key One and Blackberry key 2. Both running on Android Oreo but no confirmation received yet about Android Pie.
Mostly, we can expect that these two Blackberry models won't get Android Q in the future. Maybe any upcoming Blackberry phone can get the future update.