Samsung firmware has normally 4-5 binaries including BL for Bootloader, AP for PDA, CP for Phone, and CSC or Home_CSC. You may also need the Partition Information Table (PIT) file in some cases. Here in this article, we will share with you the Samsung CSC codes for all region.
Before going to the main topic, let's take a look at the details and features of Samsung CSC codes (Country Specific Codes).
What is Samsung CSC Code?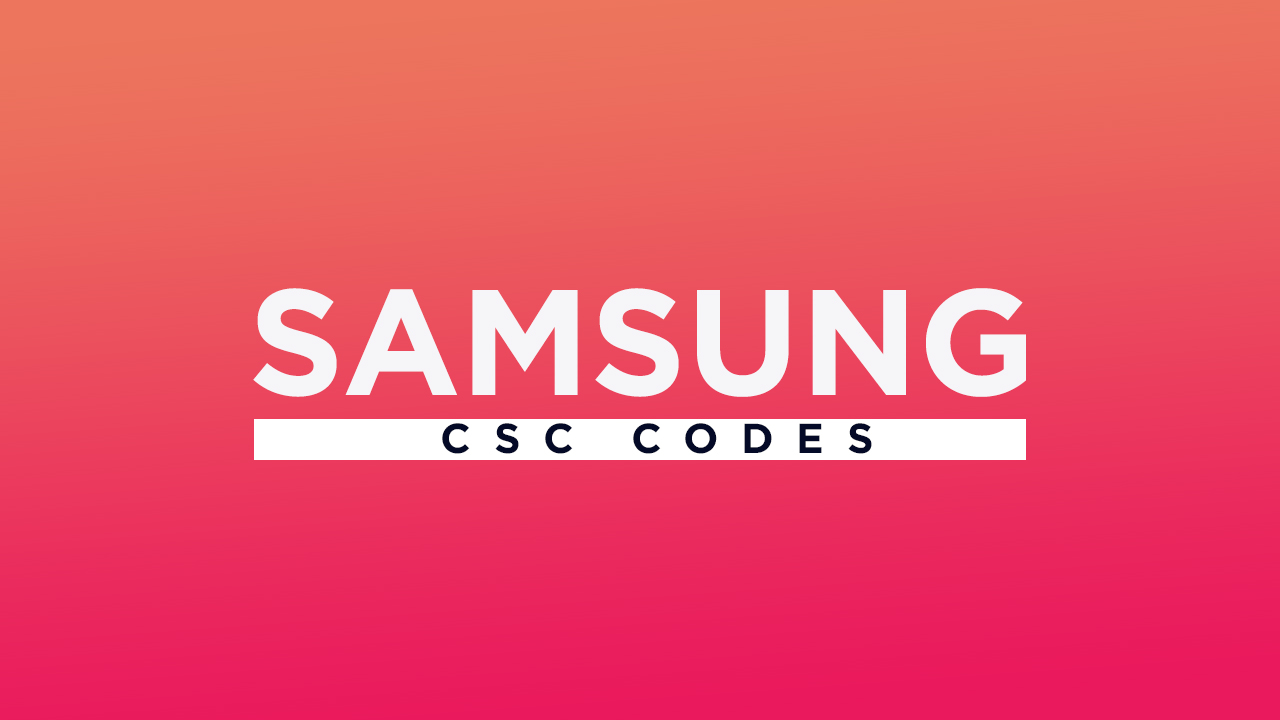 CSC word means Consumer Software Customization or Country Specific Code. The CSC code is an essential part of Samsung Stock Firmware which contains system configurations, customized system settings, Geo-tagging locations, carrier, and APN settings as well.
If you flash the Samsung Stock Firmware on any of your Samsung Galaxy devices via SamFirm tool or Odin flash tool for other region-specific versions, CSC code will come in handy. Follow the codes mentioned below for the specific region mobile carriers:
ACG – Nextech/C Spire
ATT – AT&T
CCT – Comcast
LRA – Bluegrass Cellular
SPR – Sprint (CDMA)
TFN – Tracfone
TMB – T-Mobile
USC – US Cellular
VMU – Virgin Mobile USA
VZW – Verizon
XAA – USA (unbranded/unlocked/default)
XAS – USA (unbranded/unlocked)
Read Also: How to install Samsung Stock Firmware using Odin Tool [2019]
Samsung Servers always check for the CSC codes of your Samsung device then the servers match the device CSC with the geo-location IPs. After matching both these things, Samsung Server will release the updated version for your device. This is what you can do with SamFirm Tool and then you can flash it with Odin Tool.
List of CSC (Country Specific Codes) for Samsung Galaxy Devices:
Afghanistan (AFG)
Algeria (TMC)
Austria (TTR)
Austria (3 Hutchison) (DRE)
Austria (A1) (MOB)

Austria (T-Mobile) (MAX)
Austria (Telering) (TRG)

Baltic (SEB)
Belgium (Proximus) (PRO)
Bosnia and Herzegovina (TEB)

Bosnia and Herzegovina (BH TELECOM) (BHT)

Bulgaria (GBL)

Bulgaria (BGL)
Bulgaria (MTL) (MTL)
Bulgaria (VVT) (VVT)

Cambodia (CAM)
Caucasus Countries (CAU)
Croatia (Bonbon) (DHR)

Croatia (T-Mobile) (CRO)
Croatia (TELE2) (TWO)
Croatia (VIPNET) (VIP)

Cyprus (CYV)

Cyprus (Cytamobile Vodafone) (CYO)

Czech Republic (ETL)

Czech Republic (O2C) (O2C)
Czech Republic (T-Mobile) (TMZ)
Czech Republic (Vodafone) (VDC)

Egypt (EGY)
France (XEF)

France (Bouygues) (BOG)
France (Orange) (FTM)
France (SFR) (SFR)

Germany (DBT)

Germany (1&1) (XEG)
Germany (Congstar) (DDE)
Germany (O2) (VIA)
Germany (T-Mobile) (DTM)
Germany (Vodafone) (VD2)

Greece (EUR) Greece (Cosmote) (COS)
Hungary (XEH)

Hungary (T-mobile) (TMH)
Hungary (Telenor) (PAN)
Hungary (VDH) (VDH)

Indonesia (XSE)
Iran (THR)
Iraq (MID)
Ireland (TSI)

Ireland (Meteor) (MET)
Ireland (Three) (3IE)
Ireland (Vodafone) (VDI)

Israel (ILO)

Israel (Cellcom) (CEL)
Israel (Orange/Partner) (PTR)
Israel (Pelephone) (PCL)

Italy (ITV)

Italy (H3G) (HUI)
Italy (TIM) (TIM)
Italy (Vodafone) (OMN)
Italy (Wind) (WIN)

Kazakhstan (SKZ)
Kenya (AFR)
Libya (BTC)
Luxembourg (LUX)
Macedonia (VIM)
Macedonia (T-Mobile) (MBM)
Malaysia (XME)
Mauritius (MRU)
Montenegro (TMT)
Morocco (MAT) (MAT)
Netherlands (PHN)

Netherlands (Ben NL) (DNL)
Netherlands (T-Mobile) (TNL)
Netherlands (Vodafone) (VDF)

Nigeria (ECT)
Nordic countries (NEE)
Norway (Telenor) (TEN)
Open Austria (ATO)
Pakistan (PAK) (PAK)
Philippines (Globe) (GLB)

Philippines (Open Line) (XTC)
Philippines (Smart) (SMA)
Philippines (Sun Cellular) (XTE)

Poland (XEO)

Poland (Heyah) (DPL)
Poland (Orange) (IDE)
Poland (PLUS) (PLS)
Poland (Play) (PRT)
Poland (T-mobile) (TPL)

Portugal (MEO)

Portugal (Optimus) (OPT)
Portugal (TPH) (TPH)
Portugal (Vodafone) (TCL)

Romania (ROM)

Romania (Cosmote) (COA)
Romania (Orange) (ORO)
Romania (Vodafone) (CNX)

Russia (SER)
Saudi Arabia (KSA)

Saudi Arabia (ACR)
Saudi Arabia (WTL)
Saudi Arabia (STC) (XFU)

Serbia (Telekom) (TSR)

Serbia (Telenor) (MSR)
Serbia (VIP) (TOP)

Slovakia (ORX)
Slovenia (SIO)

Slovenia (Mobitel) (MOT)
Slovenia (Si.mobil) (SIM)

South Africa (XFE)

South Africa (XFA)
South Africa (Vodafone) (XFV)

South East Europe (SEE)
Spain (PHE)

Spain (Movistar) (XEC)
Spain (Orange) (AMO)
Spain (Vodafone) (ATL)

Sweden (VDS)
Switzerland (AUT)

Switzerland (Swisscom) (SWC)

Thailand (THL)
Tunisia (TUN)
Ukraine (Kyivstar) (SEK)
United Arab Emirates (XSG)

United Arab Emirates (LYS)

United Kingdom (VIR)

United Kingdom (BTU)
United Kingdom (EE) (EVR)
United Kingdom (H3G) (H3G)
United Kingdom (O2) (O2U)
United Kingdom (Vodafone) (VOD)
United Kingdom / Ireland (XEU)

Unknown (TPD)
Unknown (ANP)
Uzbekistan (CAC)
Vietnam (XXV)
Zambia (MTN Zambia) (MTZ)
Argentina (ARO)

Argentina (ANC)
Argentina (Claro) (CTI)
Argentina (Movistar) (UFN)
Argentina (Personal) (PSN)

Australia (XSA)

Australia (Optus) (OPS)
Australia (Telstra) (TEL)
Australia (Vodafone) (VAU)

Bangladesh (BNG)
Bolivia (BVO)
Brazil (ZTO)

Brazil (Claro) (ZTA)
Brazil (Oi) (ZTR)
Brazil (TIM) (ZTM)
Brazil (VIVO) (ZVV)

Chile (CHO)

Chile (CRC)
Chile (Claro) (CHL)
Chile (Entel PCS) (CHE)
Chile (Nextel) (CHX)
Chile (Telefonica) (CHT)
Chile (VTR) (CHV)

Colombia (COO)

Colombia (Comcel) (COM)
Colombia (ETB) (COE)
Colombia (Movistar) (COB)

Costa Rica (ICE)
Dominican Republic (CDR)

Dominican Republic (Orange) (DOR)

Ecuador (EBE)
Fiji (Vodafone) (VFJ)
Guatemala (TGU)

Guatemala (PGU)
Guatemala (Tigo) (CGU)

India (INU)
Jamaica (JDI)
Mexico (IUS)

Mexico (Movistar) (TMM)
Mexico (Telcel) (TCE)

Nepal (NPL)
New Zealand (NZC)

New Zealand (TNZ)
New Zealand (Vodafone) (VNZ)

Panama (PBS)

Panama (TPA)
Panama (Cable & Wireless) (PCW)
Panama (Claro) (CPA)

Papua New Guinea (PNG)
Paraguay (Claro) (CTP)

Paraguay (Personal) (PSP)
Paraguay (Tigo) (TGP)

Peru (PET)

Peru (Nextel) (PNT)
Peru (SAM) (SAM)
Peru (Viettel) (PVT)

Puerto Rico (PCT)
Saudi Arabia (KSA)
Singapore (XSP)

Singapore (MM1)
Singapore (SingTel) (SIN)
Singapore (StarHub) (STH)

South Africa (XFA)
South America (Moviestar) (CRM)

South America (Open Line) (NBS)

Sri Lanka (SLK)
Trinidad and Tobago (TTT)

Trinidad and Tobago (EON)

Unknown (COD)
Unknown (MNX)
Uruguay (UFU)

Uruguay (UPO)
Uruguay (Claro) (CTU)

Korea (KT Corporation) (KTC)

Korea (LG Uplus) (LUC)
Korea (SK Telecom) (SKC)

China (Open China) (CHC)

China (China Mobile) (CHM)
China (China Telecom) (CTC)

Hong Kong (TGY)
Taiwan (BRI)
So, check the CSC according to your device model and region based on carrier. Thanks to AndroidSage blog for sharing the CSC codes.
---
Here is the guide – Download Samsung Stock ROM via SamFirm Tool [2019]